Our SmithCo Family
As South County's only family-owned, full-service fuel company, SmithCo Oil Service is dedicated to serving our Southern Rhode Island community with only the best fuel delivery and heating services. Our professional team of energy professionals are the best in the business; working hard to ensure your comfort and safety all year long. Since our humble beginnings in 1985, we are now approaching our 30th anniversary and look forward to many more years as a new generation of Smiths enters our business.
SmithCo Oil Service was founded and incorporated in 1985 by Stephen Smith. In its second generation with Stephen's sons David and Kevin on board, the company has grown to currently service over 3,000 accounts. The SmithCo fleet now consists of 15 oil delivery and service trucks.
<photo with caption: Stephen Smith with sons David & Kevin>
Over 50 Years of SmithCo Experience
Our SmithCo team form the backbone of everything we do to serve our community with the best possible home heating and fuel delivery services. We are pleased to introduce you to the SmithCo team that lends our company their expertise with over 50 years of combined experience in the industry.
Tony Ciccone, member since 2005
Dave Garner, member since 2010
Richard Pierce, member since 1999
John Harvey, member since 1996
Eddie Greene, member since 1988
A Spotlight on Our Newest Members
Tony Ciccone
Tony Ciccone has been with us since September 2005 and has lived in South Kingstown for 52 years with his wife Pat. He has three children, two daughters and one son. He has been a Warden with the Union Fire District for 19 years and is still very active. He was a Police Reserve back in the 1960's for 4 years. He is a former employee of Buckley Heating & Cooling. His hobbies are gardening and woodworking. He holds Master Pipefitter 1 and Master Refrigeration 1 licenses with many more credentials.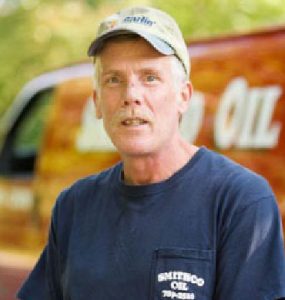 Dave Garner
Dave Garner joined us in 2010. He came to us from Buckley Heating & Cooling where he worked for 5 years. His interests are antique and classic cars and fishing. He has lived in the South County/Charlestown area all his life. Dave has his Pipefitter PFJ license.

Your Local Energy Experts
SmithCo Oil Service is South County's only family-owned, full-service fuel oil company that is here to serve you. We offer quality heating equipment installations, annual tune-ups, heating system efficiency tests, 24-hour emergency service, service plans, and more to ensure your total home comfort.
SmithCo Oil proudly services the following towns:
Ashaway, Bradford, Charlestown, Coventry, East Greenwich, Exeter, Hope Valley, Jamestown, Kingston, Narragansett, North Kingstown, Peace Dale, Richmond, Saunderstown, Slocum, Wakefield, West Greenwich, West Kingston & Westerly
Click here to contact us today  or give us a call at (401) 789-2520 to learn more.
VIEW OUR SERVICE AREA